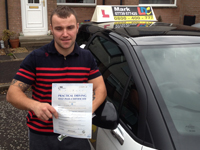 Steven Sloane
Thanks for your help getting me passed first time.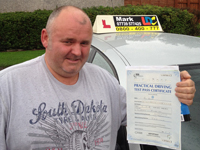 Paul Burns
Thanks to Mark, a greatdriving instructor i'm on the road driving now, would recommend to others!!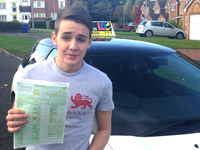 Cameron Harle
The best instructor!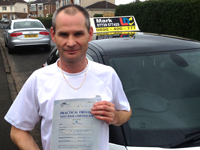 Derek McDonald
A big thank you to Mark for getting me through my driving test in only four months. I could not have done it without Marks patience and encouragement. He is a brilliant instructor who managed to help calm the nerves on the day of the test. I would recommend Mark to anybody thinking about learning to drive. He explains everything so well and is so positive. I also looked forward to going out on my lessons. He made the whole experience of learning to drive very easy for me from start to finish and now my family are so proud of me. He is a top guy doing a great job!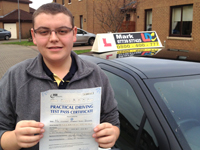 Stephen Bonnar
I was so relieved that I'd finally broken through this barrier. This is all thanks to Mark's patience and reassurance, as driving did not come naturally to me. I would recommend Mark to anyone who wishes to take driving lessons as he is a calm and collected guy. He has a good way of explaining things and if you have a problem don't be scared to ask. I am currently undertaking Pass Plus with Mark to gain more experience in situations that I have not encountered before and to gain more confidence when driving independently. I was well chuffed that I got to drive the BMW and the Citroen. Quality ;-)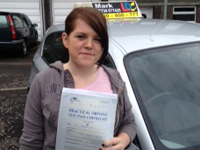 Stephanie Nicol
I just wanted to say a massive thanks to Mark for helping me pass my driving test first time. I really couldn't have done it without him. Even when I got stressed or annoyed with myself, he always stayed calm and made me realise that it wasn't that bad and that it could be fixed easily. I always looked forward to lessons with Mark because not only was he a good teacher but was a good laugh as well! I'm so glad I chose him as my driving instructor and will be recommending him to everyone. Thanks again :)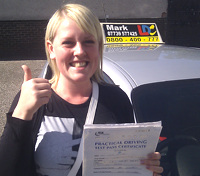 Claire McInnes
I took driving lessons when I was 17 and fell away from them as I was too busy with my social life. 5 years down the line I decided to restart my lessons and I'm so happy I chose Mark to be my instructor. He was always so positive about everything even when I done something wrong and made me feel so at ease when I was taking my lessons. I passed my test with only 3 minors and I couldn't have done it without Marks help and encouragement as I had no confidence!! I intend to tell everyone interested in taking lesson that Mark IS the one to do them with. Thank you again Mark your the BEST :) x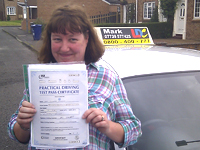 Susanne Dowson
After years of putting off taking driving lessons,I eventually took the plunge and got Mark to give me driving lessons. He was fantastic,ever so patient, even when I made silly mistakes! He explained everything so clearly . Mark never once raised his voice or got angry even when I did something silly! I always looked forward to going out for my lessons and I felt as though the hour just flew by! Mark always praised me when I did something well and if I did something wrong he would calmly explain what I had done! My lessons were always enjoyable and we had a good laugh into the bargain! Although I'm over the moon to have passed my test I'll miss having my lessons with Mark and I would definitely recommend Mark as a driving instructor!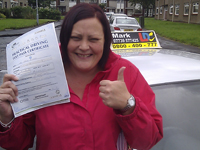 Tracey Gait
Just want to say a huge thank you for all your help and patience. You are a fantastic instructor and I will be recommending you to anyone who is looking to take lessons. You helped me and I passed first time. So thanx again and see you out on the road very soon.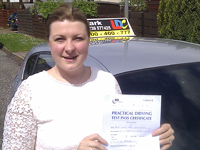 Lesley
Erskine
Thanks to Mark for helping me pass my driving test, first time! If your looking for an easy going stressless experience - Mark at LDC is your guy. Although he makes you feel at ease, he is very informative - helping you to make the commitment to your lessons. Driving as a learner can be so nerve racking; throughout my lessons Mark gave me tips and the confidence to carry out manoeuvres I thought I could never do. I would recommend Mark as an instructor to anyone hoping to start lessons.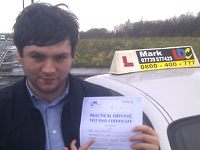 Mark Bradley
I recently passed my driving test at my 1st attempt on 9th March 2012. My driving instructor Mark was excellent: He made me feel comfortable at all times, took the time to explain how and why things were done the way they were.
I looked forward to my lessons and think Marks relaxed and friendly approach was the reason for this. I took 2 lessons per week which suited me, the structure of the lessons provided by Ldc was terrific. I would recommend LDC and Mark to anyone looking to learn to drive and pass 1st time, I thoroughly enjoyed my lessons and am now a happy driver.
I must add that when Mark originally turned up with the BMW I couldn't believe my luck, I thought that was pretty cool and was over the moon!!
"Good Guy Good Car and in the end Good result" - Pretty chuffed to be part of the 1st time passer category!!!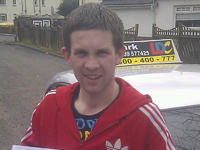 Curtis McDonald
When I was 18 I done lessons with my uncle but slowly fell away from it. Four years later, Mark's enjoyable teaching methods along with the LDC coursework, progressed me to passing first time within 2 months of starting lessons with him. I now plan to have Mark help me along with my pass plus.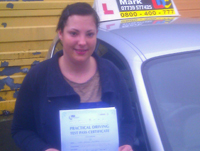 Adelle Campbell
I thought the LDC teaching methods and materials really helped me, along with Mark's great tuition. Mark got me through my test 1st time!! The whole learning to drive experience was fun and enjoyable and I put that down to Mark and his very easy nature. I would recommend Mark to anyone who is looking for an instructor.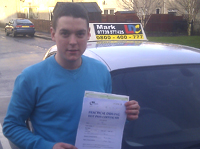 Gary
I took this LDC driving course with Mark Shand as i was recommended by a friend. At first i was nervous but Mark made me feel at ease, building my confidence as lessons went on. Mark always goes out to encourage that no matter what you will get through this course as quickly as possible as he's determined to get the best result for you, but also he makes the lessons fun and exciting as he gets on with anyone of all ages and can relate to many topics . I have a good handful of friends who also took lessons with Mark, all who have passed with him and thats why I had no doubt in phoning to book my first lesson. So to anyone wanting to drive i strongly recommend Mark Shand as hes a great guy and will help you Pass. I Thank him for his time and patience which has paid off as I have now passed my Test.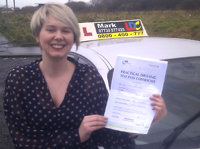 Lorna Nisbet
I loved learning to drive with Mark!!! We instantly hit it off and built up a strong rapport. He let me learn at my own pace and never got frustrated by my many blonde moments. Mark was able to communicate manoeuvres in a clear and concise manor, never using large jargon. Mark is a fantastic driving instructor who genuinely cares about his pupils. Being so approachable made the whole experience so much easier as I could easily communicate any worries and ask to go over certain things. I would highly recommend Mark to anyone looking to learn to drive - I passed first time round and you cant get any better than that!
Thanks again and I shall be booking pass plus lessons shortly.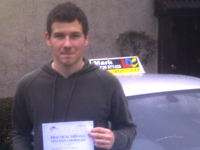 Ali
The LDC program was very easy to understand and use. The program made driving look straightforward with its simple diagrams and manageable steps. Mark explains it very well and thorough. He has a lot of skill and knowledge which he has now passed onto me. Mark was never strict yet he was eager for me to improve. He was very good at building confidence out of me. Because of his personality, we never had a bad or boring lesson; I was always learning and having a good time. The fact he had a BMW made it all the more fun!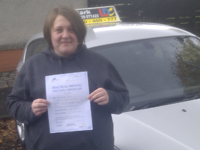 Ashley Cairns
I was given marks number from a friend who had passed with him. Mark was very understanding and friendly and took everything at a pace that I was comfortable with, he was also very encouraging and positive. I would highly recommend Mark for anyone who was taking lessons, he makes the learning to drive experience very enjoyable.
Claire Mcgale
My name is Claire and I passed my test with mark in May. Mark was recommended to me by my boyfriend who also passed his test with mark. Mark is an excellent instructor who is very reliable and made me feel comfortable from my first lesson he is also very patient and allowed me to take things at my own pace and broke everything down into simple terms. Mark would always reassure me that I was doing well and would never get annoyed if I made a mistake. Mark was a great instructor who I would highly recommend to anyone thinking of taking driving lessons.
Lindsey MacPhail
Just wanted to say that every lesson you gave me, you made me feel at ease with your relaxed and humorous attitude. You were always attentive and genuinely care about teaching your pupils to be competent and courteous drivers. Mark is a family man who has a positive and professional attitude I feel I have not only gained my licence but I have gained a friend through my lessons.
You were a good listener and at times I felt you were my counsellor and the fact that I could vent to you made me able to concentrate on my driving skills. You were very respectful to others with confidentiality which put me at ease. Mark is like a chameleon and can adapt to work with all different people which I have since been witness too. You were a great listener and a very keen teacher which I really admired and made me take confidence and pride in my driving.
Since I have passed my practical (first time round) I have since referred several individuals to LDC (Mark Shand) especially to the teenagers in my work as Mark has years of experience with a wide variety of individuals; especially challenging teenagers and individuals who may be more difficult to teach.
I have now been driving for a year and Mark has instilled in me; a great knowledge of driving skills that I will have until the day I get my pensioners bus pass.
Mark made driving fun and this is what made me learn. He is also the most funniest and patient man I have met through my life.
Keep up the great work mark, you care and that's what drives others to care.. You make me smile.
Thanks Mark and all the best with all your new pupils.
Lorraine Martin
I had never been remotely interested in learning to drive until my Husband offered to pay for Driving Lessons. I started taking lessons with Mark and in 2006 I passed my test. Needless to say My Husband thinks this is great as I can do the shopping on my own now.
I never had a clue how to start a car or how they worked, let a loan how to drive it, but with Mark's help and patience and believe me he had to have a lot of patience, slowly but surely I started to pick things up. Before I knew it I was driving around and attempting maneuvers I never thought I would manage. I grew in confidence and was ready for my test.
Mark puts you at ease when driving and makes you believe in yourself. I will always be grateful to him for teaching me a skill for life.
Anyone wishing to learn to drive need look no further as if I can do it anyone can.
Ruth
My name is Ruth and I recently took driving lessons with Mark Shand of LDC. Mark was recommened to me by friends who had already took lessons with him and had passed. Right from the first lesson with Mark I felt comfortable and calm in his company which helped ease my nerves while driving. I felt Mark himself very easy to get along with and quickly built up a good rapport with him which made the whole experience of learning ideal and enjoyable. Mark had an easy going approach to his teaching but at the same time firm when needed. I never felt under any pressure when mistakes were made and would always go over things again which needed more practice. This in itself helped ease my worries while learning how to drive as Mark was very approchable if there was something I wasn't sure about. I knew I could tell him if there was ever anything i was unsure about and knew It would get resolved without it ever being a problem. Due to all the above I went on to pass my driving test first time and Mark always assured me before hand that I could do it and was ready to sit my test which proved to be right. I would and have highly recommended Mark to friends and other members of my family who are thinking about starting their driving lessons. A great instructor all round!